Information
The Genisis 'X' series of sliding table panel saws must be one of the finest machines available on the market with every part of the machine designed for a purpose as opposed to a price. The structure of the machine and the construction are designed to withstand even the most demanding of cutting requirements with the frames being manufactured from heavy gauge steel which is laser cut and finger jointed ensuring strength and accuracy for the long term. Additional torsion bars are fitted to the base of the machine, again ensuring a structurally sound rigid base and frame, eliminating the possibility of flexing during operation and ensuring accurate and chip free cutting.
This is the flagship of the Genisis range of sliding table panel saws weighing in at an almighty 1,144kg. The machine is equipped with motorised adjustments to the main blade and scorer and also has a generous 1500mm motorised rip fence with automatic dimensional correction when the blade is tilted. All operating elements are convenienetly mounted in an overhead control panel which incorporates a colour touch screen controller which offers memory retention for cutting lists and the ability to calculate the exact setting for the fences when the blade is working on an angle, i.e. it is possible to work off the top or the bottom dimension with the blade tilted.
Details
3200 mm sliding table of multi chamber construction running on solid and hardened steel runners with large diameter 'dumb bell rollers' to ensure an easy gliding motion.
Colour touch screen controller mounted in an overhead safety panel which offers;
Motorised raise and lower of the saw blade with digital display
Motorised tilting of the saw blades with digital display
Motorised raise lower and lateral movement of the scorer with digital display
Motorised movement of the 1500mm rip fence
Memory storage for up to 300 programs
Auto correction of rip fence when blade is tilted
Possibility of working on the inside or outside dimension when blade is tilted
Sawblade storage data, diameter and kerf with auto correction
Powerful 5.5 Kw (7.5Hp) motor

4 blade speeds by easily accessible manual belt change

Independent scoring saw

Heavy duty, large section crosscut fence, telescopic with flat scales for ease of use.

Quick release of cross cut fence for cutting solid wood or ripping larger panels.

2 x heavy duty flip stops, the action in a self lubricating bush to ensure long term accuracy.

Self supported over head safety guard for better dust extraction and to allow possibility of grooving

Maximum blade size 400mm diameter

Maximum depth of cut 125mm

Machine supplied with seperate angle cutting fence
Specification
| | |
| --- | --- |
| Main saw blade diameter max. | Ø 400 mm |
| Max. cutting height with blade at 90° | 125 mm |
| Max. cutting height with blade at 45° | 88 mm |
| Rectified cast iron fixed table dimension | 620 x 1125 mm |
| | 3000 / 4000 / 5000 / 6000 rpm |
| | 5.7" STN colour |
| | 380 x 3200 mm |
| | Ø 30 mm |
| | 7.5HP (5.5KW) |
| | Ø 120 mm |
| | 1HP (0.75KW) |
| | 8000 RPM |
| | 1500 mm |
| | 800 mm |
| Cross cut fence manual movement |   |
| |   |
| CNC control for cutting width adjustment |   |
| CNC control for blade tilting adjustment |   |
| CNC control for main saw height adjustment |   |
| Motorized for scoring saw height adjustment |   |
| Motorized for scoring + / - direction adjustment |   |
| With Luxurious Overhead saw guard |   |
| |   |
| With hanging type control panel |   |
| |   |
| |   |
| Max 300 set Memory capacity program |   |
| Main channel dust collection | Ø 125 mm |
| Lux saw guard dust collection | Ø 75 mm |
| | 2270 x1300 x 1100 mm + 3330 x 470 x 330 mm + 2210 x 390 x 360 mm |
| | 878 kg / 1050 kg + 187 kg / 247 kg + 59 kg / 78 kg |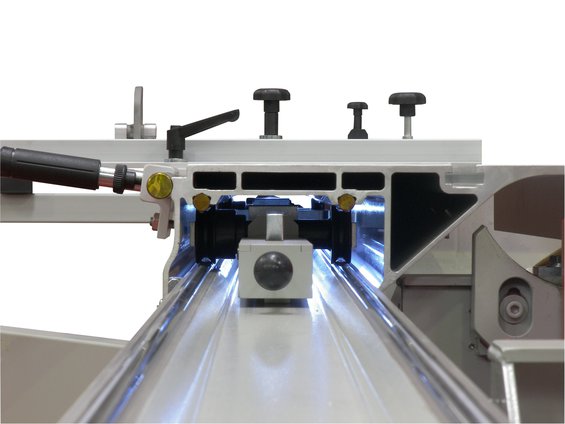 Heavy duty sliding table of multi chamber construction using solid hardened and chromed steel guides with large diameter 'dumb bell' rollers to ensure an easy glide.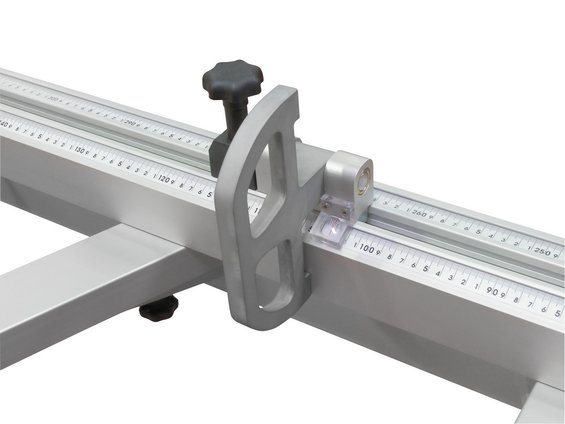 2 x Heavy Duty flip stops on cross cut fence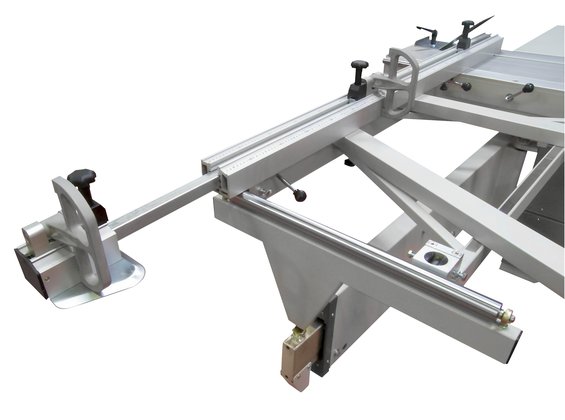 Heavy duty telescopic cross cut fence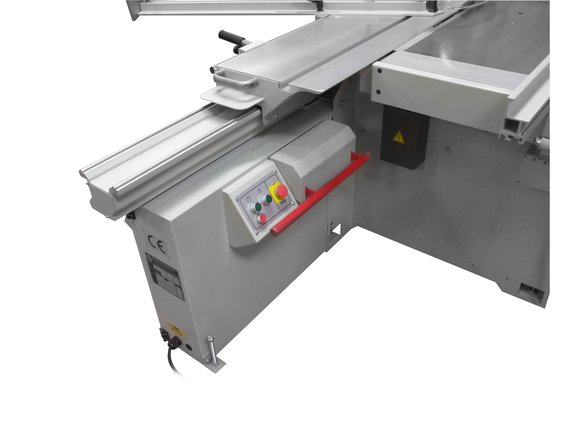 Safety bar for automatic rip fence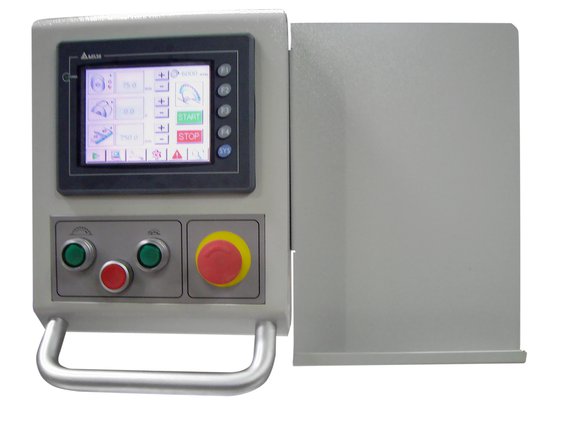 Overhead control panel complete with colour touch screen control to raise and lower of saw blade, movement of rip fence, tilting of sawblades and adjustments for the scorer.
Find out more about this machine and the rest of the range at the Genisis X-Type Panel Saws website.
NOTE: the model shown in this video is the slightly older 'X3' Panel saw without the touch screen controls.